On the evening of April 24, from 6 to 9 p.m., Long Island's PSA Security will be hosting a networking event at the I DJ Now Chalet at Brookhaven's Pennysaver Amphitheater to celebrate their 10th anniversary in business.
PSA Celebrates 10 Years with a Networking Event
To commemorate their many years of faithful service to Long Island and the New York metropolitan area, PSA invites everyone they've worked with over the years, as well as local vendors, staff and prospective clients, to come together for a night of networking. After all, PSA knows that they're only as big and successful as their networks.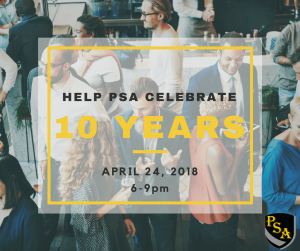 Throughout the evening, businesses will have the opportunity to set up tables with a company representative to distribute promotional items and information about the products or services they offer. Otherwise, all guests are more than welcome to mingle and exchange business cards with other Long Island professionals. As of right now, there are over 40 confirmed local businesses attending.
The event will also feature an open bar and plenty of hors d'oeuvres. To RSVP and extend your network at PSA's 10th anniversary networking event, email info@ProSecurityNY.com or call Rich at 631-721-6657.